---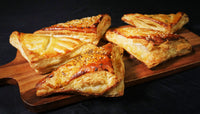 Perfect for Breakfast
My husband & I really enjoyed the Bourekas for our breakfast. My favorites were the eggplant and mozzarella as well as the spinach & feta, while my hubby really loved the beef. We loved how flaky & buttery the crust was. It went perfectly with our brewed coffee! 😋☕️
Bourekas were delicious!
Spinach and feta bourekas were huge with a generous amount of filling. Totally recommend them!
Love it ❤️
We Love it very
Much the Bourekas selection by Bait Lehem
We loved it! Tried the beef and the spinach and both flavors are amazing. Loved the crust as well.
Delicious
Spinach is so delicious. I ordered different flavors in the note, but it was not followed upon delivery.